If you have an emergency, please call us at (321) 254-4969 during office hours.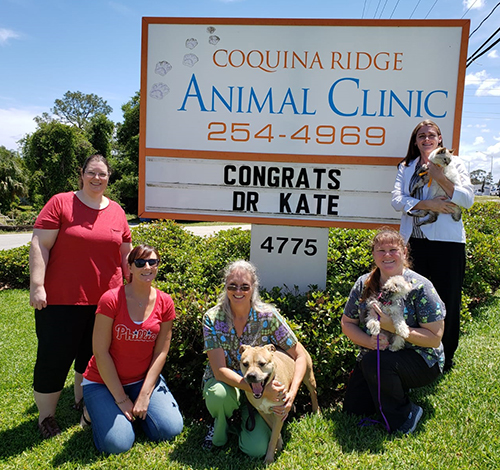 The mission of Coquina Ridge Animal Clinic is to provide current, high quality medicine and nursing care in a loving and caring environment. Every pet should be handled with a loving touch, and every pet owner should be treated with dignity and compassion.
It is our vision that the clinic environment should feel like a second home to our employees and the people who step through our door.
We routinely provide care for dogs and cats. From the first puppy or kitten visit, our knowledgeable and friendly staff will be there for you and your pet. We provide, among other services: spay/neuter, dentistry, mass removal, exploratory surgery, and GI foreign body removal. We offer care for all life stages through senior years, dietary consultation, up to date medicine, and surgery. We try to provide positive reinforcement and stress free handling.
Dr. Kate Berberick has the most current knowledge available in the areas of Small Animal Medicine and Surgery, as well as additional services available to support your pet's health and well being.
Dog & Cat Microchipping
Health Certificates (OCVI)
Geriatric Pet Care
Laboratory Testing
Veterinary Dentistry
Animal Pharmacy
Dietary Counseling
Vaccinations
Pet Wellness Examinations
Puppy & Kitten Visits
Radiography (X-Rays)
Parasite Control
Anesthesia
Schedule Your Next Appointment
To schedule an appointment for your pet please call (321) 254-4969.
You can also send us an email, which we will reply to within 48 hours.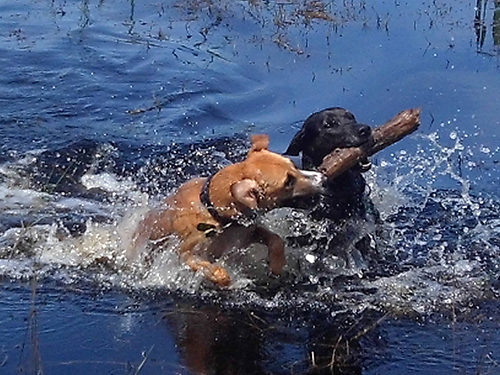 Coquina Ridge Animal Clinic Hours
Office Hours:

Monday through Wednesday, and Friday, 8:00 AM to 5:00 PM
Thursday, 8:00 AM to 12:00 PM.
First Saturday of each month (unless it falls on a holiday), 8:00 AM to 12:00 PM
WE ARE CLOSED ON SUNDAYS.

Doctor Office Hours:

Monday through Wednesday, and Friday, 8:00 AM to 12:00 PM, and 2:00 to 4:00 PM

Surgical and dental procedures are performed on Monday, Wednesday, and Friday.
PLEASE NOTE: at this time, we are doing curb-side drop-off and pick-up. When you arrive, please call our office to let us know you are here, and we will come to your car. We appreciate your cooperation and understanding to help ensure the safety of our staff and clients.
Due to an unfortunate increase in no-shows, we have had to institute a non-refundable deposit policy. Read about it here.
Coquina Ridge Animal Clinic is not open on Thursday afternoons at this time.
For after-hours emergencies, please call the Animal Emergency & Critical Care Center of Brevard, (321) 725-5365.
We have an in-house pharmacy to meet all of our patients' medication needs.
Pet Portal
We have a pet portal, so clients can have immediate access to vaccination records and due dates. The portal is accessed via epethealth.com. Some of our favorite features are:
the client can upload a current photo
view due dates
print off pet ID cards with the photo that include due dates for vaccination, heartworm testing, etc.
Payments
We accept payment in the form of cash and Visa, Mastercard, American Express, and Discover credit cards. Payment is expected in full at the time that services are rendered, unless other arrangements have been made. Your understanding is appreciated.
We are now offering Care Credit as an additional payment option for those that qualify. Care Credit is a financing option for multiple health care providers (not just veterinarians) that can help break up the cost of treatment. Please visit their website to find out more details and apply online.